Reasons Why You Should Invest in a Quality Apron
For most workers, aprons are considered a staple in their uniform assemble, and that's for a very good reason. Their main purpose is protecting worker's clothes from stains and tears, while also serving as a uniform for baristas, servers, barbers, cooks, etc. But besides their main function, the right choice of aprons can make your business stand out and look more professional.
When deciding which type of apron to purchase, the type of work your business performs should be the deciding factor. Even though most aprons are suitable for everyday use, your best bet is investing in heavy apron models that are durable and can withstand everyday wear and tear. So, if you are looking to buy aprons, here are some reasons why you should invest in ones that are of high quality.
Durable
A heavy apron is meant for heavy use. Buying a new apron every couple of months is not quite cost-effective. That is why it is better to invest more money in heavy apron models and have them last for years rather than buying multiple bad quality ones. Plus, you will reduce your waste this way!  You can research the best type of fabric depending on your needs. In general, cotton-poly blends, or aprons made from polyester are more durable than pure cotton aprons. Synthetic fabrics also retain their shape and colour better and don't wrinkle as much. If you are more inclined toward organic materials, there are heavy apron models made from cotton, which is breathable and a better choice for sensitive skin. However, poly-cotton blends combine the best of both worlds.
Lightweight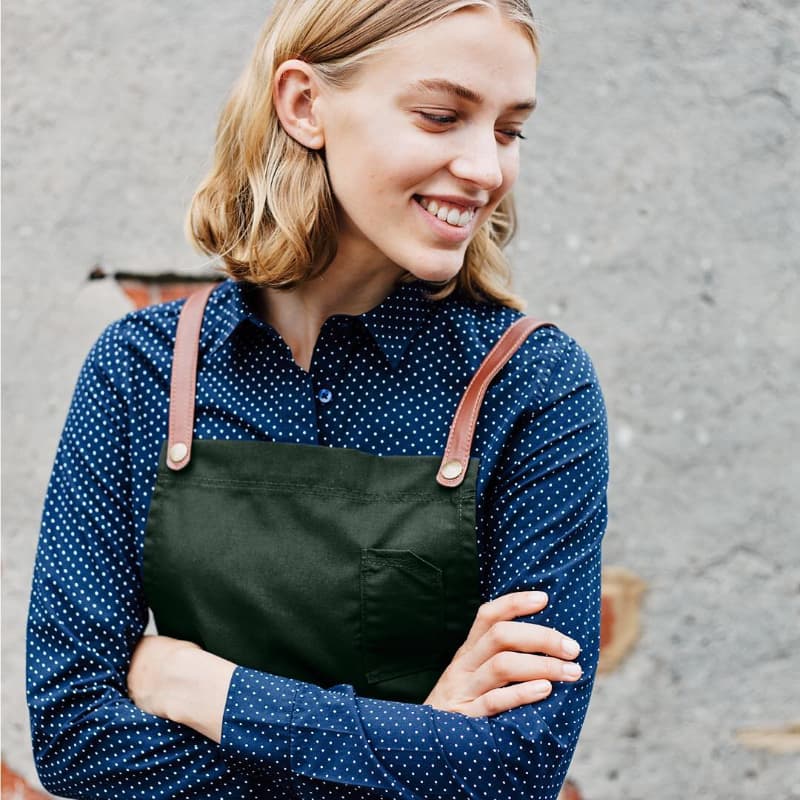 When working, employees tend to move a lot, which means buying lightweight aprons meant for heavy use is your best bet. The fabric also comes into play here, and lightweight to midweight fabrics are both good options to consider. Another factor to consider is the length of the apron. A longer apron will provide more coverage and protection. Your best bet is buying heavy aprons with cross-back straps for added comfort.
Practical
The best heavy duty aprons aren't worn just to look professional – they are practical too! Most models feature large pockets on the front for pens and notepads and everything you might need depending on your profession.
Trendy
Besides being very practical, heavy apron models can also be very practical. Contrast stitching, embroidery decorations, a fashionable denim wash… everything that will make your workers stand out from the crowd of monotonous and boring uniforms.