Reasons To Choose Holiday Gourmet Gift Basket
Traditional, but not boring, a gourmet gift basket is always a wonderful and exquisite gift. And the best thing about gourmet food hampers is that they are suitable for every occasion – holidays, corporate parties, family gatherings, birthdays, etc. Before choosing a gourmet hamper, find out what are the recipient's likes and interests. Usually every gourmet hamper, regardless of the products it contains, is an appropriate and desired gift. Another thing you have to consider before buying a gourmet basket is the occasion. Depending on the occasion, a baskets can include cheese crackers, candles, bottle of wine, set of glasses, biscuits, nuts, champagne, chocolate, bath cosmetics, books etc. These gourmet baskets that are filled with food and savory treats are the most preferred gifts. To make the gift basket even more special, you can make homemade cookies, muffins or even sandwiches (if meant for picnic). Take a look at these super easy recipes that can boost the mood quickly.
Ingredients
12 slices of toast bread
3 tbsp mustard
6 slices ham
6 slices cooked chicken filet
12 slices of Gouda or other cheese
125 ml milk
2 tbsp olive oil
salt
ground black pepper
Preparation
Coat 6 slice of bread with mustard on one side first. Then place a slice of cheese, ham, chicken filet and cheese on each and cover with the other 6 slices. If you want the sandwiches to be warm proceed with the nest step. In a large bowl, break the eggs and put the milk. Season with salt and pepper. In a pan heat the olive oil. Dip each sandwich in milk mixture and fry on both sides until golden. Serve the sandwiches immediately.
Another easy and quick mood-boosting food are cookies with almonds. Here is the recipe: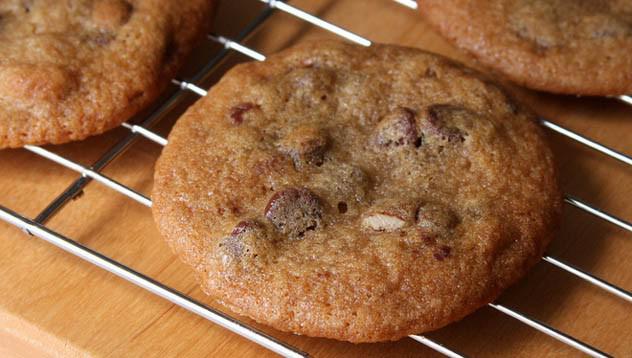 Products
120 g white flour
120 g grated almonds or ground almonds + 40 g whole almonds
0.5 tsp baking powder
60 g sugar
1 packet of vanilla sugar
100 g cold butter
3 tablespoons cold water
Preparation
Mix flour with baking powder, nuts, sugar and vanilla sugar. In a blender cut butter into cubes and add flour mixture. Pulse few times until the mixture turns into coarse crumbs. Pour the mixture into bowl, add water and knead the dough. Add whole almonds and knead again slightly. Wrap the dough in plastic foil and leave it in a fridge to cool. Roll out the dough on floured surface to thickness of 5-6 mm, cut out circles and place them on a baking sheet. Cover with plastic foil and put in the fridge to cool. When cool, bake cookies in a preheated oven at 180 degree for 8-10 minutes.