Top Reasons To Install Vinyl Sheets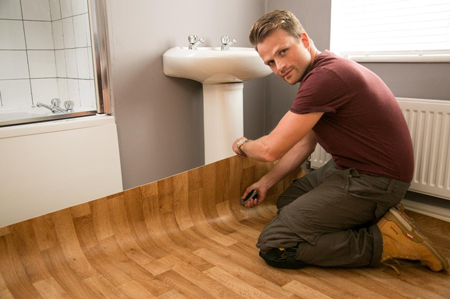 The vinyl sheets gained their popularity after the Second World War. This flooring option replaces the natural flooring perfectly, and it is more affordable, durable and easily maintained option. When people talk about vinyl flooring in general, they usually think about vinyl sheets. So, if you are planning to redecorate your home with a limited budget, or simply want to add something different to your decor, the vinyl sheets are the right choice for you, and here's why:
Superior Cost – Vinyl flooring is definitely one of the cheapest flooring installments. The vinyl sheets can imitate hardwood, laminate or ceramic floors, and yet cost half as much, ranging from $0.5 to $10 per square meter depending on the type chosen. They also save you money since you don't have to replace them often during the years, as they are very durable.
Easy to Install – If you have the time, you will be able to lay down the vinyl tiles by yourself. It is simple and easy as that. However, you need a good solid sub-floor to install the tiles or planks on. This procedure requires a help from professional.
Resistant To Stains And Scratches – Vinyl is a type of material that doesn't wear out easily. Most vinyl sheets have one or several top "wear layers", making them highly resistant to scratches from heavy traffic. Stains can be easily removed, since most vinyl tiles have good surface protection.
Waterproof – The vinyl sheets are perfect choice for bathrooms, kitchens, basements, and other rooms where the floor can be in touch with water. They are made from shock absorbent materials, and can be installed directly over the sub-floor, guaranteeing high water resistance.
Low Maintenance – Vinyl sheets save you time and effort. Regular and occasional cleaning is all that is needed for keeping the floor in perfect condition. Furthermore, the vinyl sheets doesn't absorb fur or other dirt, meaning that there is no need for vacuuming.
Durability – Since water is not a problem for the vinyl, this flooring solution is one of the most durable flooring materials available on the market. If properly installed (and maintained!), the vinyl sheets can last up to 15-20 years.