Reasons Women Love The Gucci Perfume – "Premiere Gucci"
When people talk about Gucci the only thing that probably comes to your mind is high fashion, traditional craftsmanship, Italian style, divine perfume and expensive clothing and accessories. Since its establishment in 1921, Gucci has been the number one destination for both men and women who prefer quality and uniqueness. As one of the most famous fashion brands worldwide, Gucci is known for its excellent and trendy shoes, handbags, amazing clothing designs, children's clothing, jewelry, leather goods, etc. Aside from its clothing line, many women are in love with Gucci fragrance line. In fact, for majority of women, Gucci perfume is a must-have accessory. And according to recent surveys, one of the most desired Gucci perfume is "Premiere Gucci".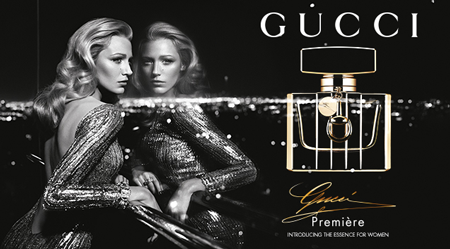 This Gucci fragrance is inspired by the timeless Hollywood glamour and new Gucci collection of dresses shown at the Cannes Film Festival in 2010, best portrayed by amazing Blake Lively. For many this extraordinary Gucci perfume is the perfect balance between sensuality and strength. Exquisite and intriguing just like the little black dress. However, even those this Gucci perfume screams glamour and elegance, it is perfect for any occasion – a movie premiere, romantic dinner, friend's wedding or a business meeting. Women who wear "Gucci Premier" are fashion icons, successful, feminine, intriguing and seductive.
"Gucci Premiere" is an oriental Gucci perfume, sexy, contemporary and dynamic. It celebrates the existing star in every woman, with it's divine mixture of notes that evoke power, beauty and attitude.
Top chords open with luxury champagne, orange blossom and sparkling bergamot. The heart is a perfect blend of the sensitive musk and white flowers. The base is warm and seductive cocktail of subtle smoky leather and woody accords embodying absolute brilliance.
Release in 2012, since this Gucci perfume has been the No.1 choice for every sophisticated and modern woman. Its light and spicy aroma is perfect for everyday use. Powerful yet gentle, noticeable yet subtle, this Gucci fragrance will surely win you over and become your signature scent. And this is one of the main reasons why women adore it. So whether you want to buy this Gucci fragrance for yourself or as a gift, know you will make the right choice.