Important Reasons Why You Should Get Your Dog Its Own Bed
Without a doubt, the bond between dogs and humans is quite special. In fact, this bond is so special that more and more dog owners decide to let their dogs live inside their home. However, just like humans, dogs also need some time on their own – to go outside, to eat and sleep. So, except for installing a dog door and investing in quality food and drink bowls, you should also think about buying a dog bed.
Reasons to Get a Dog's Bed
Even if you allow your dog to sleep in your bed, every dog needs a bed of its own. Sometimes, your bed won't be available and your dog would like to take a nap, and you wouldn't want for your furry friend to have to lay on the floor, won't you?Except for this, dog beds are great for keeping dogs warm while giving them the needed joint support. They are also lightweight and easy to move around. This means that whenever you need to travel, you can always take the dog's bed with you. Having a place of their own will help them relax whenever feeling anxious or stressed.
The Most Popular Types of Dog Beds
Pillow Beds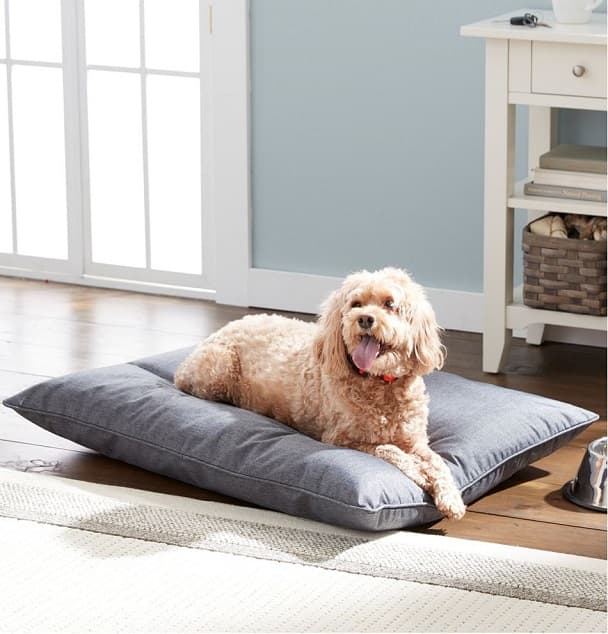 Pillow beds are considered to be one of the most basic, most affordable and most commonly used dog beds. As the name implies, these beds resemble a pillow and they are usually made of a microfiber fabric, flannel, denim, etc. The filling of the pillow can be made with foam padding, cedar chips, polyester fill and bean bag filling . Since these beds are quite soft, they are ideal for those dogs that want something softer to lay on. When looking for such a bed, it's recommended to go for one with an outer cover that can be machine washed.
Waterproof Beds
Investing in a waterproof dog bed is one of the best decisions you can make. With dogs, accidents aren't a rare occurrence, so investing in a waterproof dog bed can come in handy. Usually, there are two types of waterproof beds. The first type features a waterproof lining that prevents the urine from soaking into the bed's filling. The second type usually features a waterproof base, preventing the urine from leaking from the bed. Usually, the outer material of these beds is waterproof polyester or Teflon while the inside can be made of something different. Some of them can be made of orthopedic foam which is great for providing dogs with ultimate comfort, while others can be filled with PET fibre in a combination with foam to provide more comfort.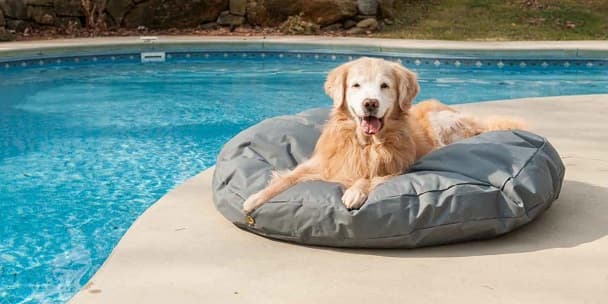 Besides being washable, the outer cover of these beds is usually chew & scratch resistant, mould and mildew resistant, flea and mite resistant, tough and durable. This type of dog beds can be used both indoors and outdoors. Last but not least, you can benefit a lot from investing in a waterproof bed for your dog as they are not prone to odours, unlike the other types of materials that become smelly and make dogs smelly too, these materials are odour-resistant. For ease of use, the outer cover can be secured either with zipper or a hook and loop fasteners.
Doughnut Beds
For those of you who would prefer a more modern version of the pillow dog beds, you should consider the doughnut dog beds. These got the name due to their doughnut shape that features a round raised area circling the bed and a circular lower area inside the bed. Thanks to this amazing design, these beds are quite comfortable for dogs, providing them with quality sleep time. Usually, the raised area is filled with foam to keep the bed from collapsing. Since these beds don't offer any specific support, this makes them great for those dogs that don't have any specific needs or problems.
Nesting Beds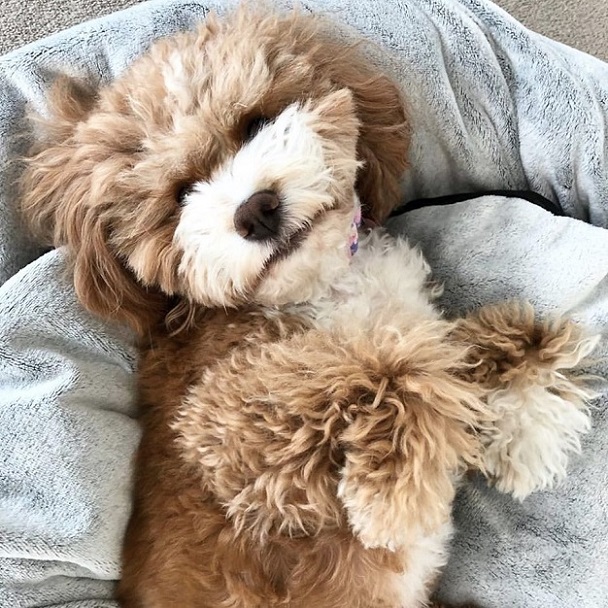 Just like the doughnut bed, this one also has a raised area on the sides, so the dog could cuddle in the inside lower area. Unlike doughnut beds that have a round shape, the nesting ones can come in a range of shapes like square and oval. The sides of these beds are usually made of some kind of a sturdy foam or egg crates while others can be made of simple fabric. Some of these beds also have an orthopedic foam base which is great for senior dogs and for those that have some kind of a physical issue.
Things to Consider when Choosing a Dog Bed
The Dog's Size – Measure the length of your dog's body to get an idea of how big the bed should be.
The Dog's Sleeping Style – No matter how large your dog is, if it likes to sleep into a ball shape, you won't need a large bed. On the other hand, those dogs that love to stretch would prefer a pillow bed more than a nest or doughnut bed.
The Dog's Health & Age – If your dog has some kind of physical problem or it's old, then consider investing in an orthopedic bed.
How to Wash a Dog Bed?
The easiest way to wash a dog bed is using laundry machine. However, there are many other ways to clean a dog's bed.
How to Stop Dogs Chewing Their Beds?
Boredom and anxiety are the main reasons why dogs chew their beds, Luckily, there are some useful tips that can help you solve this problem.