Reasons to Hire Professionals for Tree Stumps Removal
Trees are a marvellous sight, there's no doubt about that. However, sometimes they pose more of a hazard than they add aesthetic appeal (along with other benefits) and they must be removed. But what about the stump? Well, although a great number of people leave stumps to die on their own, the truth is that they need to be removed as well.
Tree stumps removal is needed to prevent termites from moving in but also to prevent suckering. And while a lot of people consider stump removal as a piece of cake, in fact, stump removal can be quite difficult and nerve-wracking if not handled the right way. To be completely sure that you have removed the tree stump is by hiring the services of a professional tree service company. The reasons for this are many.
Proper Equipment
Except for the knowledge and experience, tree surgeons have all the needed equipment for removing a tree. With the help of a stump grinder, a tree surgeon can perform the tree stumps removal project with ease. Stump grinders are available in a range of sizes and they can be used for removing different stumps sizes. They can be as small as a lawn mower and big as a vehicle. What's more, by hiring a professional company, you'll avoid damaging the lawn. The experts will do all in their power to preserve its quality and appearance. For a tree arborist to be professional, he/she needs to be certified at the International Society of Arboriculture – ISA.
Health & Safety Hazards
You might have removed the tree and successfully avoided any tree hazards, but the truth is that tree stumps can be as hazardous as a sick tree. Since usually tree stumps are smaller in size, tripping over them could be quite common. Unfortunately, this can lead to injuries that sometimes could be life-threatening. Speaking from another point of view, if a stranger trips in your yard, he/she can sue you. This legal issue can cost you a lot of money, so when giving all of this a second thought, it's way more affordable to invest in stump grinding than paying someone damage.
Experiences & Knowledge
Dealing with a professional, reputable and trustworthy tree service company means hiring experienced and knowledgeable tree surgeons. Except for stump grinding, these pros will be able to give you advice on everything related to tree care, maintenance, tree pruning, shaping and many other tree-related services.
Proper Handling
Regardless of the type of used equipment, professional tree surgeons know how to handle them properly. Except for having licensed and professional equipment, they know how to work with the equipment without being posing danger to anyone or anything. They have all the needed knowledge to protect the surrounding area, clients and employees, and in case something happens, they'll know how to react and handle the situation.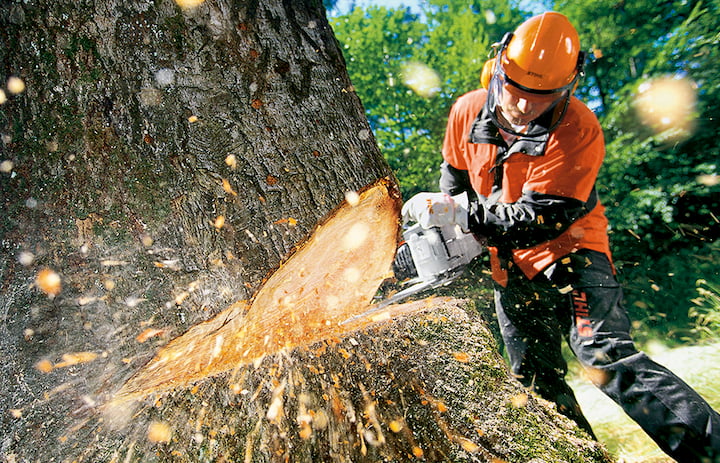 How to Remove a Tree Stump?
There is nothing wrong with being an enthusiastic DIY person, but when it comes to more demanding and dangerous tasks, it's always good to ask for a second opinion. For those who want to remove the stump on their own, digging around the roots, cutting them, pulling them out and removing the stump are all things you might be able to do, but then the chances that you haven't removed the roots completely would be huge. This means that after a while, a new tree might start growing there. While this could be a more cost-efficient way to remove a tree stump, in the long run, hiring the services of a professional tree company is a smarter move.
How to Find a Professional Tree Service Company?
The easiest and most convenient way to find a tree service company is by reading customer reviews online. Go to some popular Australian forums related to tree service or consult with some friends and family as well. There is no safer way to go about this than to leave the matter to true professionals – people who know what they are doing, so making sure you make the right choice is paramount. This is the determining factor regarding whether the outcome will be successful or not.