Which Bathroom Basin Will Work for You?
When it comes to interior design planning, most people would spend months thinking about how to style the living room or bedroom, but not many would put much thought into the bathroom. One would think that it's the easiest space to furnish, just pick a bathtub and a basin and we're good to go. But it isn't that simple because there are many things to consider.
Start with the floor, should you choose waterproof vinyl flooring or ceramic tile, laminate or engineered wood? There are so many options just for a small part of the bathroom. Yes, you also need a bathtub, but what kind of a bathtub? They can come in many styles and designs.
On that note, there's a variety of bathroom basins as well. They're a key piece that can be found in all shapes, colours, and materials. So which basin is made for you?
A Diverse Range of Bathroom Basins to Choose From
Vanity Basins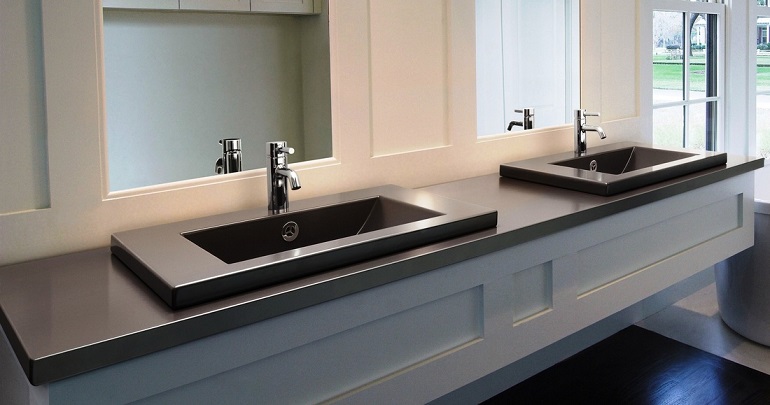 These basins are part of vanities and the whole vanity unit serves for more storage. It can come in different sizes: small just to hold the basin or large enough so it takes up the whole wall. You need to measure the space that you have and consider the other features that you plan to include in the bathroom.
The size should also depend on how much storage you need. If you want to use them for storing all of your toiletries, cosmetics, towels, and hair appliances, a bigger vanity with more drawers would work well.
The vanity can be wall-mounted which means that it floats on the wall, free-standing, or built-in. They allow for more basins to be integrated and can have various types of countertops. And when it comes to the sink itself, there's a wide array of top-quality bathroom vanity basins to choose from.
Above Counter Vanity Basins
These are installed on the vanity's countertop. They're also known as vessel basins and are usually chosen when space isn't an issue because they sit on top and are fully visible. This is where you can play with different and bold designs since they could be the beautiful centrepiece around which the whole bathroom is styled.
They can be used on lower vanities and are suitable for taller people. They don't require much effort to be mounted because there's no need for tap holes or cutting of the vanity so they're the easiest to set up.
Semi Recessed Vanity Basins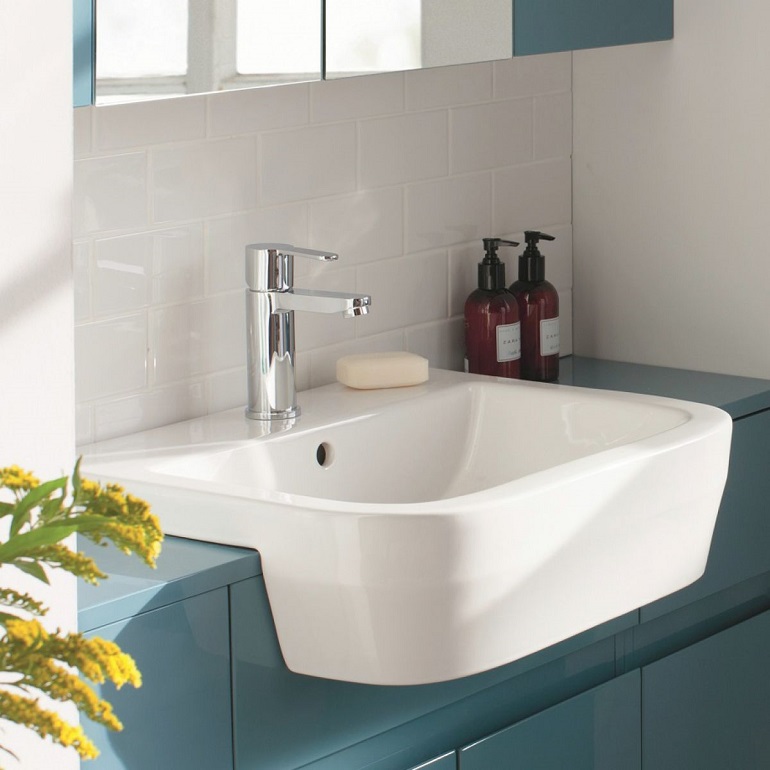 These basins are installed into the vanity but partially protrude over the front which means that they're not fully fitting the vanity. They are suitable if you don't have the space for a big vanity but you still want a bigger basin. Two types are available: round and square-edged. When it comes to installation, the countertop needs to be cut according to the basin so it's best first to choose the semi-recessed basin and then to cut the counter.
Inset Vanity Basins
These are probably the most traditional bathroom vanity basins. They are completely fitted into the counter but their rims are raised above the countertop, or they can be half-inset giving the look of above-counter basins. The rims can be wider or narrower and can have interesting shapes, but most importantly they protect the counter from water. This keeps the countertop clean and contributes to a neat look of the entire vanity.
Undermount Vanity Basins
This bathroom basin is installed underneath the countertop, inside the vanity. There are no visible edges on the top, it's seamlessly integrated which makes the whole vanity look flatter and smoother. It's easy to maintain since there are no edges that need to be cleaned from mildew and debris.
Wall Hung Basins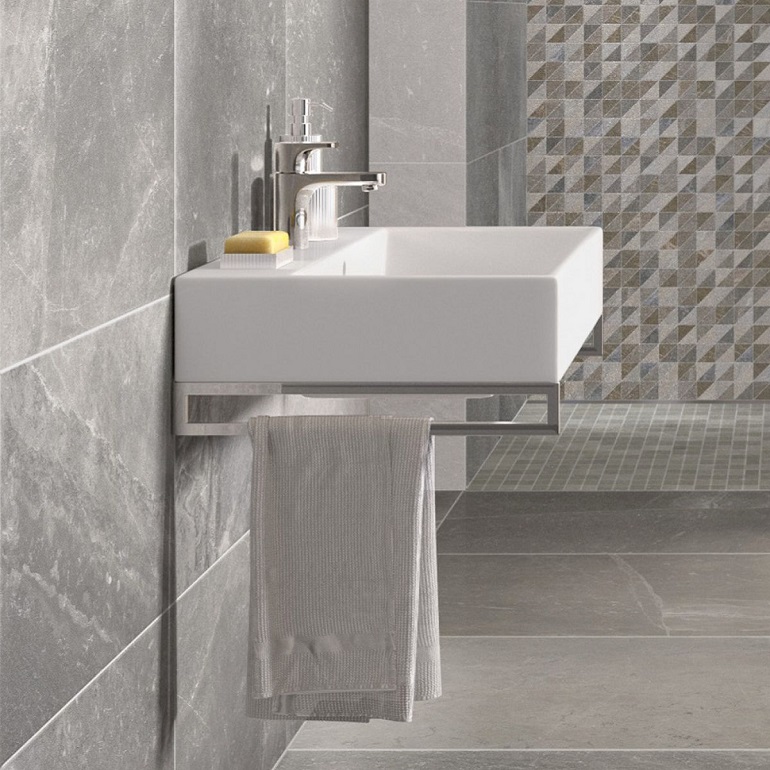 This type of basin isn't part of a vanity but it's mounted on the wall by itself, giving the illusion of floating. Just like one of the reasons to choose a freestanding bath for your bathroom is flexibility, wall hung basins also give you more freedom in choosing a place for them. You need little space for installation and the height and position depend on personal preference.
It's ideal for small bathrooms because it makes them look roomy and less cluttered. You can have a frame installed under it if you need some more storage space. It'll be more functional but it'll still look elegant.
Pedestal Basins
These basins are pretty common and simple. They're free-standing – a basin with a pedestal under it that touches the floor. They lack storage room but conceal the plumbing perfectly. If you want it to give the appearance of more space, there are semi-pedestal basins that just cover the pipework. The design and shape of the sink and the pedestal vary and since they're pretty popular, there are plenty of different styles to choose from.
What Materials Are Popular for Bathroom Basins?
Ceramic Basins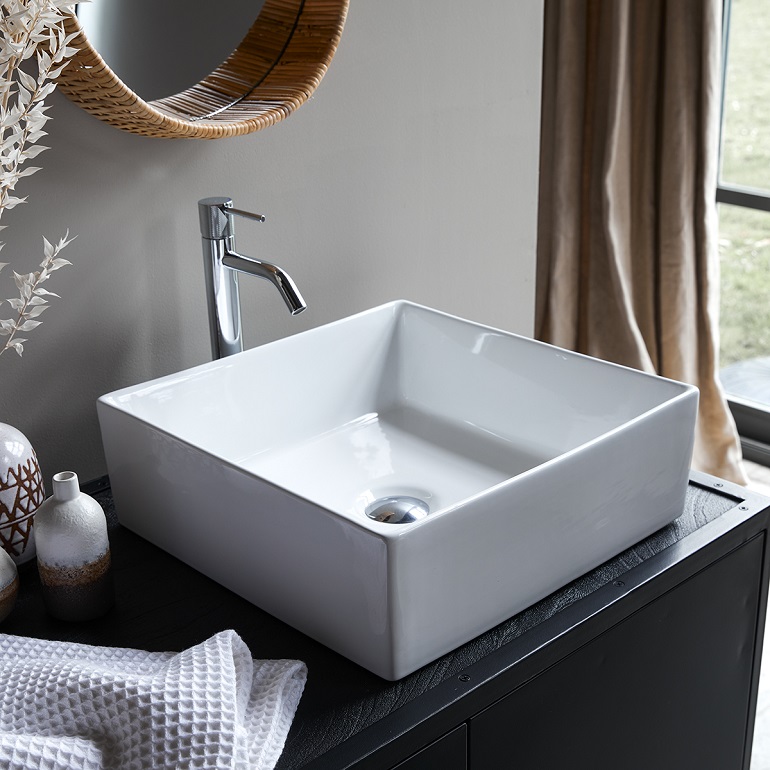 This material is the most commonly used one, it's inexpensive and durable. It's made of clay that is heated so it hardens. It allows to be painted or glazed so there are a variety of styles to choose from. It's easy to maintain with simple cleaning products but don't use hard brushes because you don't want to damage its surface.
Porcelain Basins
This is a type of ceramic material that isn't porous and it's very hard and strong. This means that these basins have a long lifespan but they also look good. They're smooth and easily adaptable to any style. Just be careful not to drop heavy objects or use strong cleaners because they can be chipped and are susceptible to stains.
Glass Basins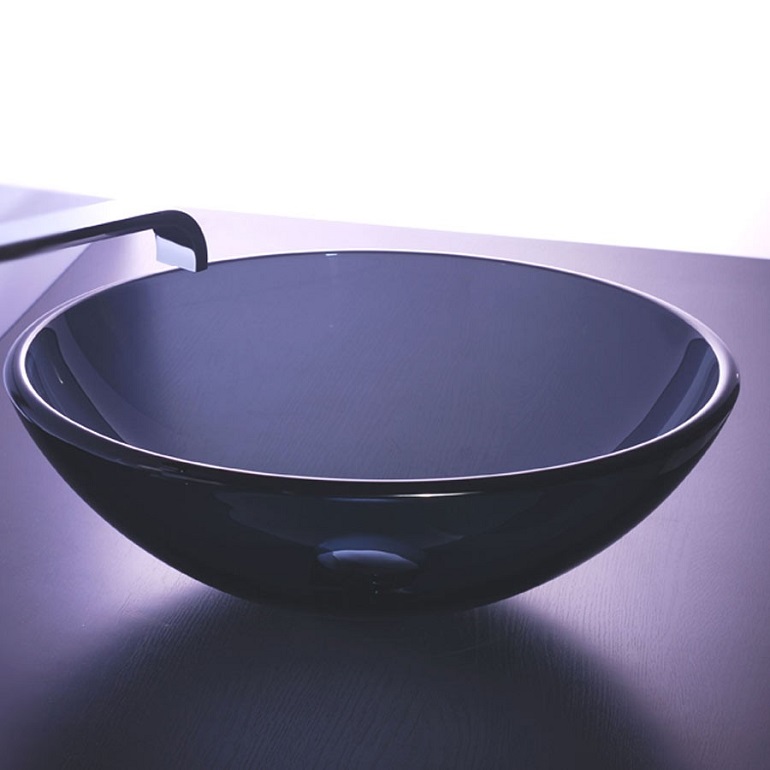 Glass is a sophisticated material for basins that's been treated in order to be tougher. It's called tempered glass and it's very resistant. It's easy to clean but it's easy to stain as well because everything is more visible on glass surfaces. They could have numerous colours and be shaped according to your liking.
Natural Stone Basins
These basins are made from granite, marble, sandstone, onyx, and other minerals. Each of them has its distinctive characteristics that make it unique. Stone basins can be made into a specific shape or they can retain part of their natural look and be works of art themselves. They need to be sealed once installed and gently cleaned. Don't use harsh cleaners so you don't stain the stone.
Stainless Steel Basins
Although steel is preferred for kitchen sinks because it's long-lasting, doesn't rust or stain and it's resistant to bacteria and germs, but all of this makes it a great choice for bathrooms as well. Its colour and various sleek designs can perfectly complement any countertop.
Wooden Basins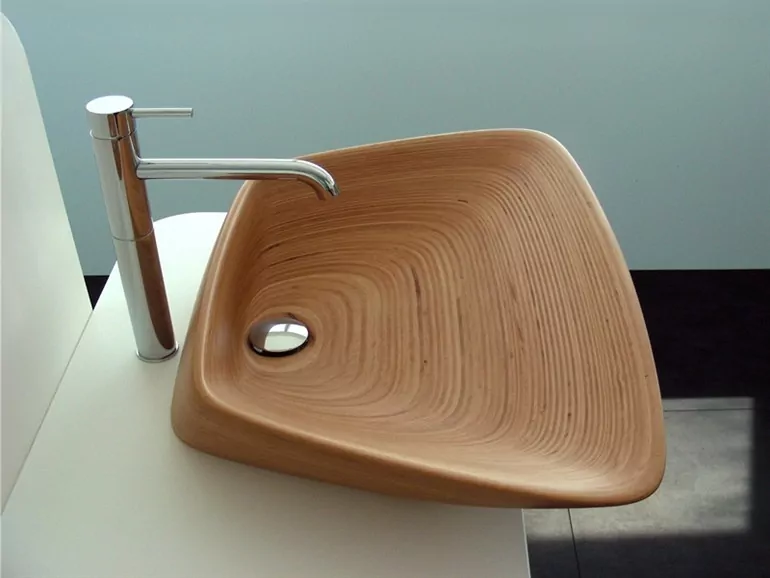 If you're going for a rustic and natural vibe in your bathroom, wooden basins are the ideal solution. They can be made of various types of tress but teak, iroko, and bamboo are the most common ones. Teak is strong, antiseptic, and naturally resistant to water but more expensive. Iroko is the cheaper option and its properties are much like those of teak, and bamboo is becoming very popular because it's eco-friendly and durable.
Choose according to your preference and the style of your bathroom.