Reasons You Need an Outdoor Kitchen & How to Design It Right
Outdoor cooking and dining have become increasingly popular among 21st-century homeowners. If you have the space and budget, building an outdoor kitchen can be a great idea. After all, steaks sizzling on the grill and eating in the open air are some of the greatest joys of summer. While you may have to worry about mosquitoes, there are many benefits to having an outdoor kitchen.
For one, when it's super hot, like this past summer has been, just the thought of turning on the oven inside seems horrifying. Besides feeling uncomfortable, cooking indoors during the summer warms up the space, which means your air conditioner needs to work harder. And this translates to an increase in your electricity bills. But by cooking outside you can keep your home more energy-efficient.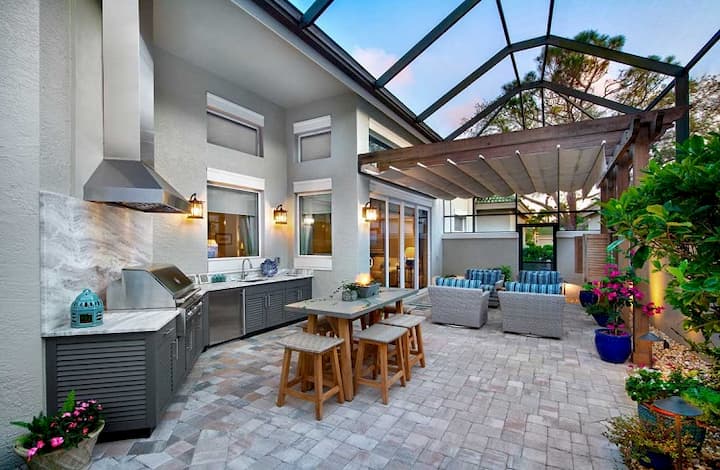 As opposed to being cramped up in a tiny kitchen, cooking outside doesn't feel like a chore as you get to go outside. And when you stir a pot or flip burgers outside, you can enjoy the fresh air and the lovely sights and scents of your garden.
Plus, having an outdoor cooking and dining space means that you can invite friends over without having to worry about the state of your interior. If you love entertaining people but hate having to make the house presentable, hosting an outdoor dinner party may be the easiest solution.
But while the idea of cooking and dining outside seems exciting, once you get down to business, you'll quickly discover it's an overwhelming task. After all, designing an outdoor kitchen is nothing like designing your indoor kitchen. Here are some things to consider in order to create a functional outdoor kitchen.
What Are Outdoor Kitchens Made of?
Choosing the right materials for your outdoor kitchen is crucial. Outdoor kitchens need to be built to withstand regular use and the harsh outdoor elements, even if they are installed in a covered alfresco area. Additionally, you also want to choose a material that will complement the aesthetics of your outdoor space. Different elements of outdoor kitchens can be made of different materials. Let's start with cabinets.
When it comes to cabinets, the most common material options are stainless steel and wood. Most homeowners prefer stainless steel outdoor kitchens for their ability to withstand moisture, heat, mould and rust. They are the most durable option you can choose. Additionally, stainless steel outdoor kitchens are easy to keep clean. You can give them a quick wipe and they'll be sparkling again. On the other hand, wooden outdoor cabinets are more susceptible to outdoor elements such as rain and heat and can deteriorate over time. If you want the look of wood, it's best to go for a weather-friendly option such as teak.
As for the countertops, you need to pick a material that can withstand the outdoor elements as well as high temperatures and oil and food spills. If you want the rich look of stone, go for something that's non-porous, like for instance bluestone or granite. On the other hand, if you want wooden countertops, make sure that they are sealed with a water-resistant sealant.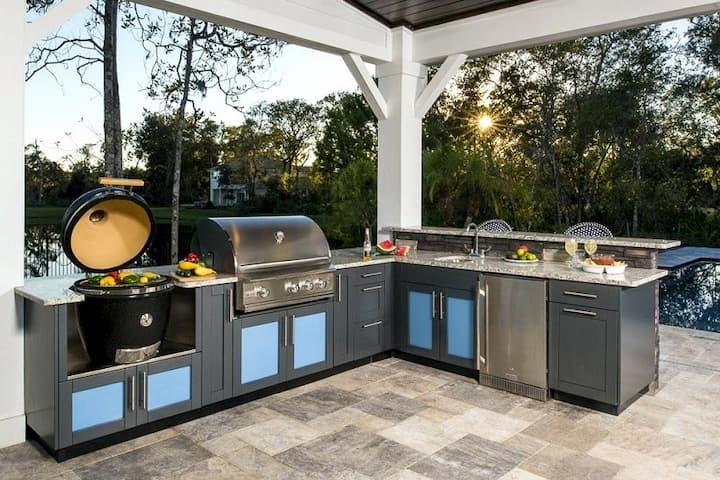 What Appliances Do I Need for an Outdoor Kitchen?
Okay, now that we've covered cabinets and countertops, let's move onto appliances. Depending on your needs, you can include a variety of appliances in your outdoor cooking space. However, what good is an outdoor kitchen if it doesn't include a grill, right? Cooking burgers, kebabs or vegetables is much faster when using a grill. Plus, grilled food has that unique mouthwatering flavour. The most important consideration when buying a grill is whether to pick a charcoal or a gas model.
If you also want to enjoy some slow-cooked meals, you can always get an outdoor oven. With an outdoor oven and a grill, you have the option to cook almost every type of dish. You can choose between a gas or electric model or look for a wood-fired pizza oven if you have the space. You can also include a fridge in your outdoor kitchen. This way, you can keep cool drinks at hand without having to run inside every time for a refill. You can also keep ice, condiments and other commonly used ingredients close.
A sink is another convenient feature to include as it can allow you to wash your hands as well as ingredients and dirty dishes. You go for a small sink for quick rinses or pick a double sink for extra convenience. When it comes to plumbing your outdoor sink, there are usually two ways – connect the sink to a garden hose or to the indoor water supply. You will also need to take care of drainage by either connecting the sink to your main drainage system or creating a grey-water reservoir. In any case, it's better to consult with a plumber.