Reasons Why A Fine Wine Compliments Food
Fine wine is а synonym for quality, unique taste and subtle sophistication. If tended properly, the wine gets better with age. A popular Italian proverb says that age and glasses of quality wine should never be counted. Romantics say that fine wine is a wine that tells a story. True indeed.
Bottles of finest wine are made out of highest quality grapes and they normally come from world's best vineyards and most acclaimed winemakers. Fine wine differs from ordinary table-wine in many aspects, particularly when it comes to complexity, balance, concentration, focus, typicity, elegance and power.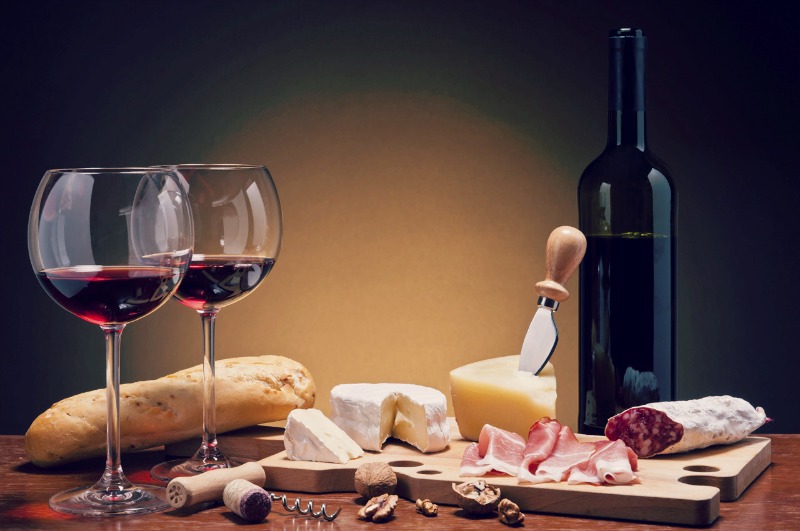 No matter if red or white, a bottle of fine wine has always been the perfect companion for every occasion and every meal. In other words, there are no flavour limits when it comes to complementing dishes with a quality fine wine. Every sip of old, fine wine fits perfectly with every bite. As simple as that.
If you are running out of ideas to enrich your delicious wine and food menus, we have couple of interesting combinations prepared for you. Be ensured that ultimate pleasure is 100% guaranteed.
A Bottle of Chardonnay for Fatty Fish and Fish in a Rich Sauce – No matter if it is a salmon or any other type of seafood, if served in a lush sauce, there is no better wine dressing thаn the noble Chardonnay.
A Bottle of Pinot Grigio for Light Fish Dishes – The unique flavour of light fish dishes are best when combined with a glass or two of grayish, age-worthy Pinot Grigio.
A Bottle of Sauvignon Blanc for Tart Dressings and Sauces – Tangy dishes like spring vegetables (artichokes and asparagus), or spaghetti with Anchovy Carbonara sauce cannot be tastier than when combined with the aromatic Sauvignon Blanc.
A Bottle of Riesling for Sweet and Spicy Dishes – As a superior quality fine wine, the sweetness of Riesling will tame the spiciness of many Asian and Indian plates. You can try for example, the chicken burritos with black-bean salsa and pepper jack. Or, if looking for a simpler and lighter option, try ham and gruyère French toast sandwiches with a serving of an easy-drinking Riesling.
A Bottle of Pinot Noir for Earthy-Flavoured Dishes – The savory depth of red, full-bodied Pinot Noir makes an unforgettable experience when combined with dishes rich with mushrooms or truffles. A great recommendation is to try wild mushroom and burrata bruschetta accompanied with the luxuriously exquisite and elegant Pinot Noir.