Reasons To Include a Bench in Your Dining Room Setting
Coming up with a dining room setting is thought to be the easiest designing projects of all. After all, it requires the conventional two pieces of furniture – the dining table and chairs. However, this type of structure is too safe and boring. A little refreshing change can be quite welcoming. And the simple addition of a bench might be all your plain dining setting needs to become instantly uplifted.
During a sports game, if a player is hurt, panellized or simply invaluable to the team, it's said that he is "on the bench". But if you have a strong and stylish bench on your dining room seating team, you will never want to take it out of your design game. And here are a few reasons why.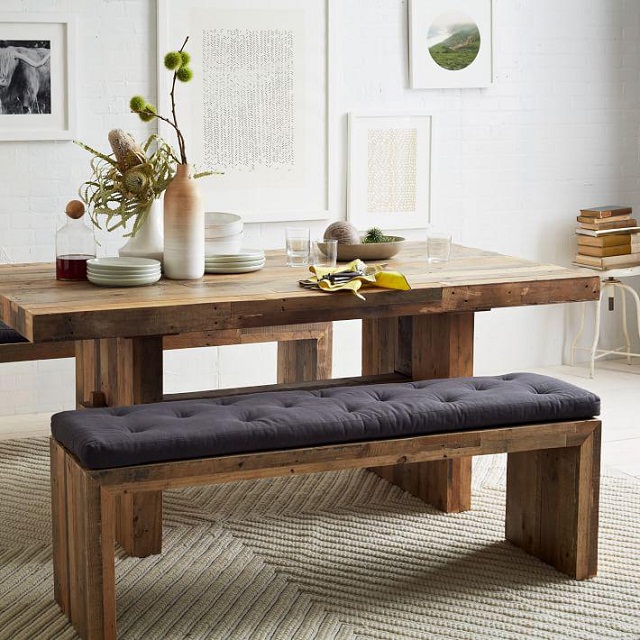 Great Versatility
Benches can be integrated in any interior design scheme whether modern or vintage, Scandinavian, or French Provincial, Hamptons or Bohemian. They are a great element to balancing out a style. Instead of cluttering the dining room with chairs, a dining bench on the other side can complement the setting in an unexpected way, allowing you to be playful but not over the top. For instance, the clean, straight lines of the bench create a contrast to large, curvy chairs. Moreover, with the addition of a few pillows, a bench can shape-shift into a comfy sofa to cosy up while having your morning breakfast.
More Efficient Use of Space
As you try to squeeze your bulky dining chairs around the Christmas table to seat every family member or friend plus potential partners and kids, you will realize how practical a dining bench can be. The way benches are designed, means that they optimize horizontal space for seating only. Because they have no armrests they allow for an increased freedom of movement. After all, your arms don't need to be rested while dining, they are meant to cut food, sip drinks, raise glasses and gesture. And the best thing about a dining bench – It can be easily tucked under the table and free up space, which makes it great for smaller dining rooms.
Brings People Closer
Sitting on individual chairs allows every person to have their personal sitting space separate from others. However, there's something special about a family or group of close friends getting together to dine while seated on benches. Eating on the same level with others is communal and convivial conveying that the group of separate individuals is actually a whole. And there's also the occasional touch that let's one know I am here for you. Sitting on a bench with people you love means telling them "I care so much for you, I'm willing to get up from my meal so that you can go to the bathroom".
Less Visual Clutter
A bench can assure that the table is the focal point. And in a dining room, the food placed on the table is what should draw one's eyes. If you surround the table with chairs, the backrests can act like bars that suffocate the beautiful table arrangement. But a bench, means that one can always have a clear view on all the deliciousness that's masterfully served.