Reasons to Camp with a Swag & How to Choose the Right One
Being blessed with delightfully sunny weather for most of the year, Australians have the chance to spend a lot of free time outdoors. Whether it's hiking, camping, mountain biking, fishing or hunting – you name it, most Aussies love them all! But while these outdoor activities can allow you to recharge your batteries, they also require you to depend on some special equipment.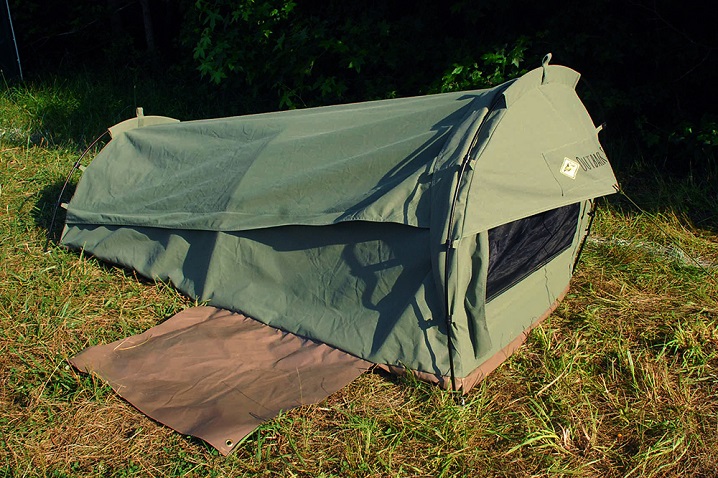 And most of the time carrying around this equipment is not hard on its own. However, there can be a problem if you want to spend a night under the open sky as this means you need to bring a tent along. Standard tents with poles and pegs can be bulky and heavy to carry around. Plus, they are often complicated to set up. Considering this, many Australians find a swag to be a far more convenient option than a regular tent. Here are some reasons to help you understand the popularity of swag camping Australia wide.

Easy to Set Up and Pack Up
One of the greatest advantages of a swag is that it is easy to set up. You can set up your swag in seconds and just relax as you watch your companions struggle to pitch their awkward and complicated tents. This can be very convenient when you arrive late to your camping site and it's too dark or you're too tired to deal with a regular tent and its complex elements. And when it's time to get back to civilization, you can simply roll up the swag and take off without wasting a moment longer.

Motivates You to Stick to the Essentials
Have you noticed how you end up not needing many of the things you bring along to a camping trip? Well, when you're camping with a swag which doesn't offer a lot of storage space, you have no excuse to hoard a bunch of unnecessary things. Plus, many of the models of swag camping Australia stores sell can also function as a backpack. Just place your bare essentials inside the swag, roll it up and you're ready to hit the road.

It Can Offer More Protection Than a Tent
Although it may not look like it, a swag can offer more warmth than a normal tent. Not only are most swags constructed from thick, protective canvas, but they also have a relatively small size which traps your body warmth inside, keeping you cosy. In addition, swags have a PVC vinyl floor that helps separate the warm inside of the swag from the ground and prevent rain from getting in, acting like a tarp or groundsheet. If you're camping on a hot summer night, the swag can also allow you to stay cool. You just need to remove the top canvas layer and open the mesh ventilation opening for some air. You don't have to worry about any bugs as the fly screen mesh will protect you.

No Need to Pack Extra Bedding
When picking a swag camping Australia stores sell, make sure that it also comes with a built-in foam mattress. This way, the swag can provide you with warmth and protection from the cold hard ground. Plus, there's no risk that you forget to bring your own bedding and have to endure an uncomfortable and cold night's sleep.
How to Pick a Good Swag
If all these reasons have convinced you to try swag camping, then you need to know how to choose the right one. Swags for sale usually come in three sizes: single, king and double. Single swags are a good 60-90 cm wide and 180-230cm long. This is the smallest and most compact size and is good for people who want to pack lightly for their trip. However, if you need a bit of extra room to accommodate yourself, you may consider king size swags which measure 90-115 cm in width and have about the same length as single swags. And finally, there are also double size swags which are about 110-130 cm in width and 190-230 cm in length, thus allowing for two people to sleep together comfortably.
Besides being available in different sizes, there are also two types of swags – traditional and dome. Traditional swags consist out of a mattress sandwiched between two layers of canvass – one that serves as the base and the other as the cover. When rolled up, this type of swag resembles a bedroll and is compact and easy to carry around if you're a hiker or a biker. Additionally, traditional swags are also usually cheaper than dome swags.
On the other hand, dome swags are bigger and bulkier compared to traditional swags. Although they are the same length and width as the traditional type, dome swags take up more room in height. As a result, they provide some space between you and the top cover which can make you feel more comfortable.
And finally, you also need to consider the quality of the material used. As most swags are made of the same material – canvas, be sure to get something made of canvas that is 12 oz or higher. As a general rule, the most durable and protective swags are made of a 14oz – 16oz canvas. Also, check whether the swag is treated to be waterproof and rot-proof so that it can resist mildew and mould. This is especially important if you plan to camp during rainy weather or in a humid region. And finally, you'd also want to choose a canvas with tear check and ripstop weaves instead of plain weaves since such a canvas is a lot sturdier and able to resist tearing.