Reasons To Buy Sephia Egixile Squid Jig
For years the Shimano brand has been trying to deliver one of Japanese most effective Egi fishing principles in the hands of Australians. Now suid fishing is far more fun and enjoyable, thanks to Shimano sephia egixile squid jig. Thanks to this amazing jig, you will be able to catch more squids than you did before. Shimano created the 3 colour schemes jigs to help anglers catch squid in any possible situation. Shimano developed unique and effective squid fishery for both shore and boat based fishermen. It is up to you to decide which model will best suit your personal preferences, fishing technique and style. Be smarter and faster than the squid, get the Shimano sephia egixile squid jig and see the difference in fishing.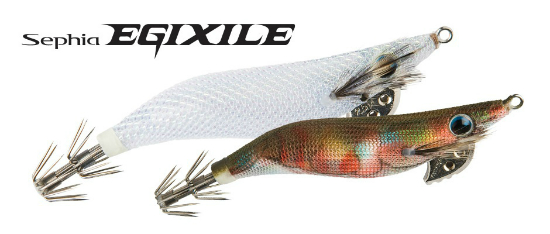 Ideal For Different Environments – The best place to fish for squid are sea grass meadows and reefs where they can find food and shelter from other bigger fish. If you want to improve your squid fishing skills then make sure you buy the new Shimano sephia egixile squid jig that has unique features that attract squid. Shimano designs jigs that are ideal for several environments. You have the "natural" sephia egixile squid jig for when fishing in shallow waters, the prawns one and "Keimura" for deeper and low light conditions.
Different Designs – Shimano went further and created several designs, colours and sizes to meet the different needs and requirements of anglers. You can find sephia egixile squid jig that comes in 14 colours and 3 sizes options that are ideal for different depths and squiding applications. This way you will be able to change the jigs depending on the fishing environment. One of the most popular sephia egixile squid jigs is the one in size 3.5. the reason is the fact that this sephia egixile squid jig is perfect for fishing either in shallower or deeper waters.
UV Reflecting Cloth Material – What makes this sephia egixile squid jig so different than the other jigs, is the UV reflecting material it is covered with. The UV reflecting material is very helpful especially if you fish in waters where sunlight cannot reach. In such waters, the UV light activates, glows and attracts squids. Thanks to the UV light incorporated in the "Keimura" jig, you will be able to improve your squid fishing even when the conditions are not the best.