Reasons to Buy Modern Seats and Chairs for Your Home
What was once considered to be a symbol of authority, state and dignity, is now the most basic piece of furniture that everyone has around the house. Although at first sight, chairs might seem like nothing to get excited about; they're a highly important, indispensable part of furniture, as Albert Einstein himself once said,
"A table, a chair, a bowl of fruit and a violin; what else does a man need to be happy?"
However, not all chairs are created equal and not every chair can make you happy. Designs change for a reason and here's why you should consider buying contemporary chairs and seats.
Less Is More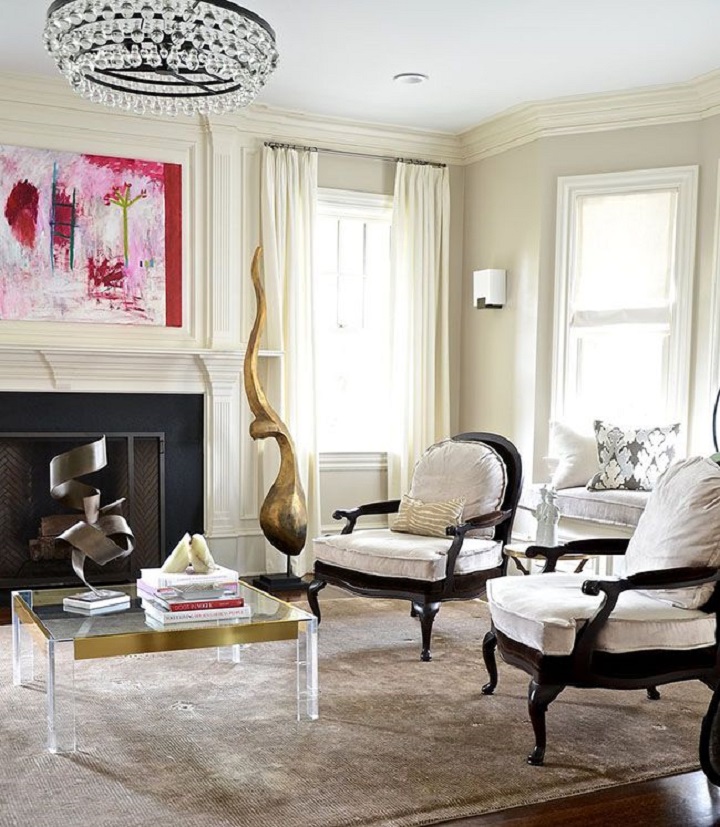 Interior design and décor nowadays are all about simplicity. The ultimate goal is to create a pleasant, open and welcoming environment without encroaching the valuable space with unwieldy furniture. Contemporary chairs will add a touch of sophistication and elegance without overpowering the room. Thanks to the sleek lines, clever design and neutral colours, contemporary chairs can be easily incorporated in almost any interior style.
Unlike their predecessors, contemporary seats come in various shapes and sizes for both residential and commercial premises. This is one of their major perks because you can easily find a stylish chair that can be accommodated even in the smallest room or office.
Contemporary chairs may be simplistic, but they're certainly not boring. A set of contemporary seats can improve the overall aesthetic of your living room, dining room or bedroom even if they have a traditional style décor. There are contemporary seating chairs which prove that the old and new can coexist together and bring your interior design up to date.
Unprecedented Comfort and Value for Money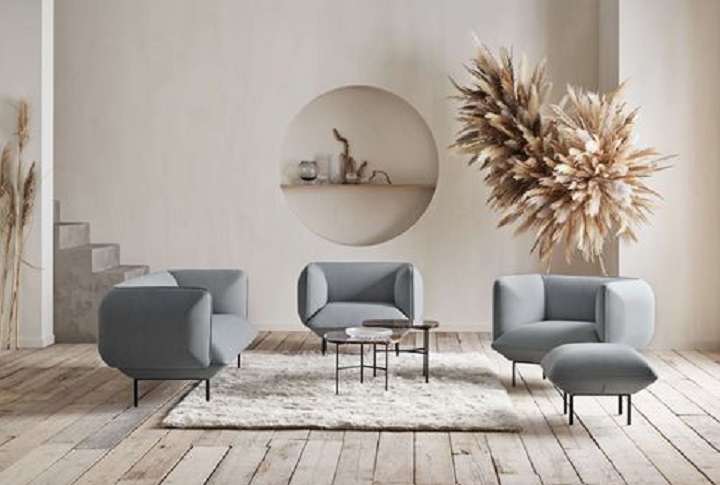 As mentioned above, designs change for a reason, and modern-day problems require modern-day solutions. Nowadays, there's an increase in sedentary lifestyle and people spend most of their time glued to their chairs. Traditional and old fashioned seats can't always provide the adequate support and comfort needed for the average 9-5 worker or student.
Most of the contemporary seats are designed with this key thing in mind and offer unprecedented comfort, style and practicality. Having a comfy chair is of utmost importance because it won't only boost your productivity, but it will also reduce your risk of workplace injuries. Moreover, if your leisure activities include gaming, watching TV or other forms of being a couch potato, a cozy designer chair will certainly make your pastime more enjoyable.
Furthermore, contemporary chairs are made from innovative, premium quality materials that are cost-effective. This is why you can find exquisite designer chairs for as little as 300$ and give your place a makeover without breaking the bank.
Bold Statement Piece
If you run on a tight budget and you want to upgrade your home, you should know that even small changes can make a lot of difference. You can give your place a completely different vibe with just one unique piece of furniture. There are plenty of state of the art contemporary seating chairs to choose from and you shouldn't be afraid to experiment with unusual pieces. If you like a certain chair that doesn't look like the rest of your furniture, don't hesitate to buy it because it'll be an excellent focal point , plus mixing interior decorating styles is trendy and chic.
For instance, a modern emerald green accent chair will instantly add a luxurious touch to a traditional home. It'll pair well with the warm, earthy tones in traditional décor and bring a pop of colour that will break up the look and freshen up your space.
If you lean more towards the contemporary style opt for a chair with minimal details, clean lines and neutral colours that can easily be complemented with cushions and covers if you change your mind in the future and want a bolder accent chair.
Top Picks
If you're looking for modern designer chairs for sale, have a look at this fine selection of contemporary seats that will undoubtedly grace your home.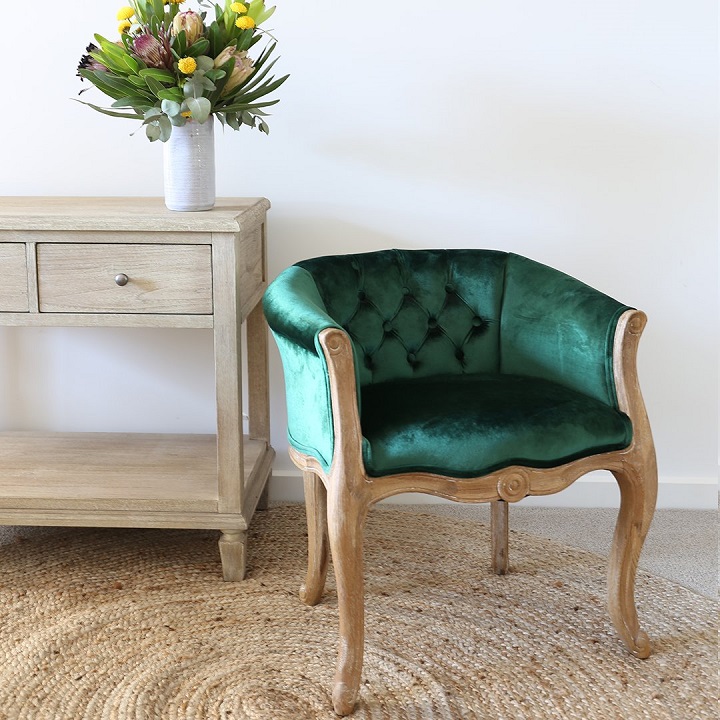 At the top of the list comes the marvellous Cabriole Elizabeth chair that's available in black, emerald green and dusty pink. The intricately carved cabriole wooden oak legs combined with the extremely comfortable heavy-duty linen are French provincial at its finest. This chair is the perfect statement piece for any traditional or transitional home. The Cabriole Elizabeth falls on the smaller side of accent chairs and this is why it would look great paired with a small coffee table or a stylish ottoman.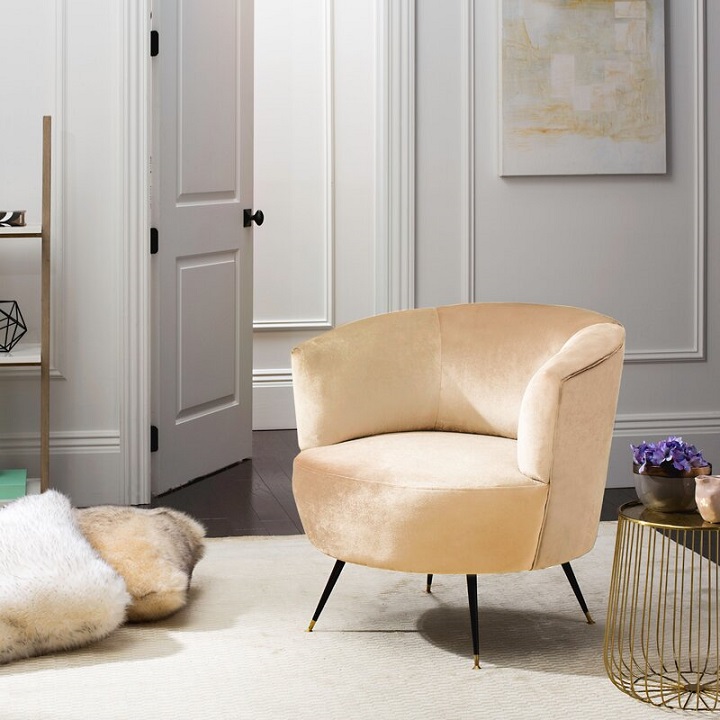 The Esther Tub chair comes in a variety of colours and it's the definition of timeless. The Esther tub chair is a traditionally designed piece with a modern touch made from high-quality, heavy-duty fabric. Deep-seated with curved back and arms, this chair will quickly become your favourite seating spot.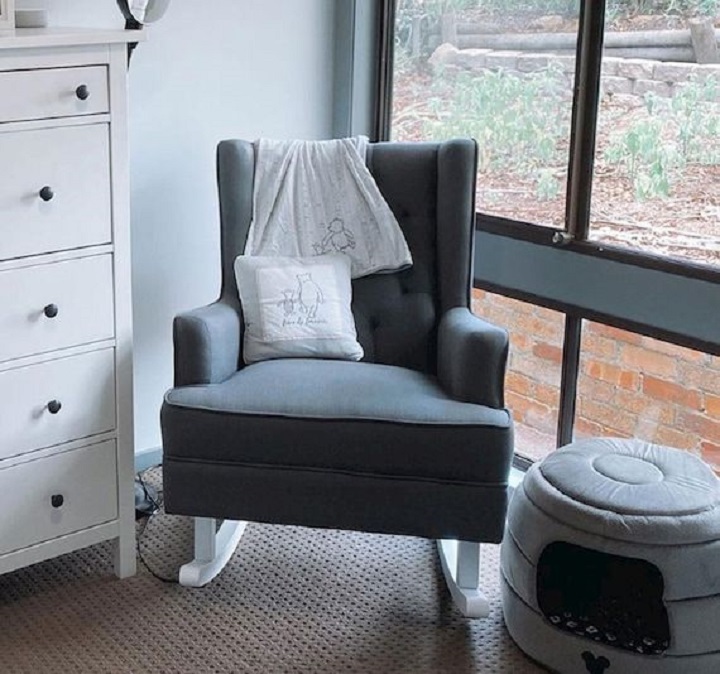 The Isla Rocking chair is one of the most versatile pieces of furniture you can own. It comes with an extra set of straight legs to give you the option to convert it into a classical accent chair. Plus you can choose from several different colours. The combination of hardwood, engineered wood and sturdy fabric make this chair a perfect statement piece for an industrial chic living room, a modern nursery or a sophisticated bedroom. One thing is sure though, you're going to enjoy this rocking chair for many years to come.
Last but not least, the only chair you'll ever need – the Cloud Single Seater. The Cloud is the most comfortable chair money can buy and like that wasn't enough, it's the perfect stand out piece that will beautify any space. It comes with three feather-filled back cushions and a feather wrapped foam seat for the ultimate snuggles and it has a removable cover that's easy to clean and maintain. What more can you ask from a chair?
Pro-Tip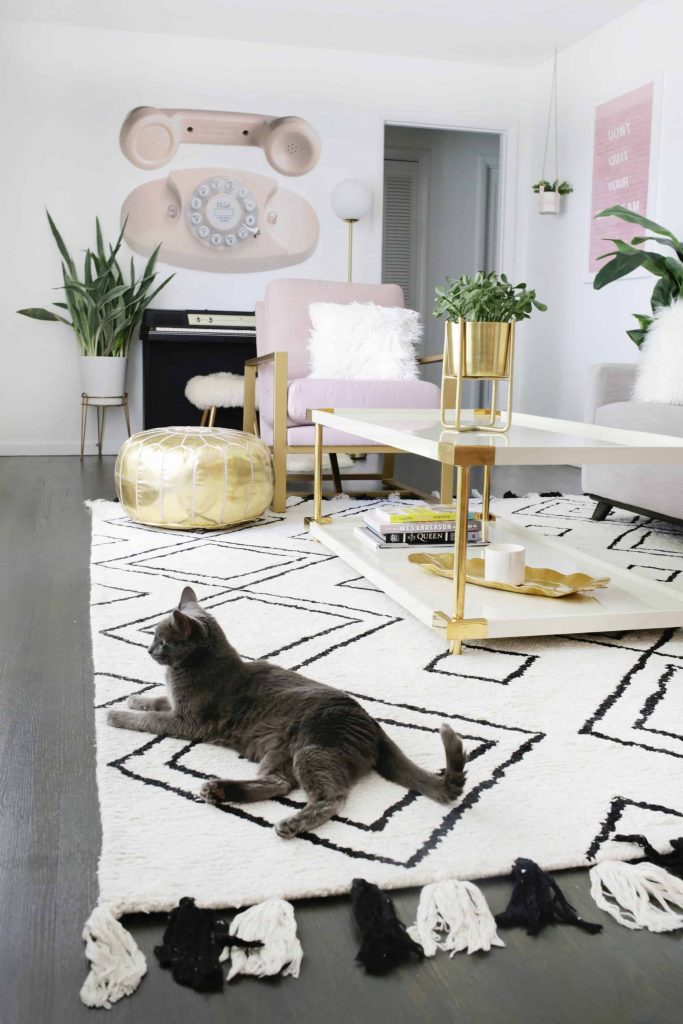 When it comes to modern accent chairs, your choices are limited only by your personal preference. However, sometimes there's a gap between vision and reality and your perfect accent chair may not be the right size for your space. This is why you should carefully measure everything out to ensure that your chair will perfectly fit in the chosen spot. You don't want anything too big that will cause clutter and you certainly don't want an accent chair that won't accentuate anything.