Reason to Choose the Right Curtain Heading: Increase Your Home's Style & Functionality
Curtains have been shielding windows for centuries, long before blinds. And even today, these simple lengths of fabrics are still a great way to make our homes more energy-efficient, protect our privacy and add an elegant touch to our interior at the same time.
But here on the blog, we've already talked about the many reasons to embrace the timeless look of curtains. So, now let's get down to the business of installation. Once you've picked out the curtain design that complements your interior best, you need to think about how you're going to fit it onto your windows. In other words, you need to consider the heading.
The heading style of the curtain, or the way the curtain is hung at the top, is something you want to get right. Not only will the type of heading influence the overall look of the curtain, but it also affects how easy the curtain can be pulled to the side and how compactly the fabric stacks. There are several types of curtain headings, and which one is right for you depends on the type and weight of the fabric as well as your existing interior style. To help you decide, let's take a closer look at the most popular heading styles.
S-Fold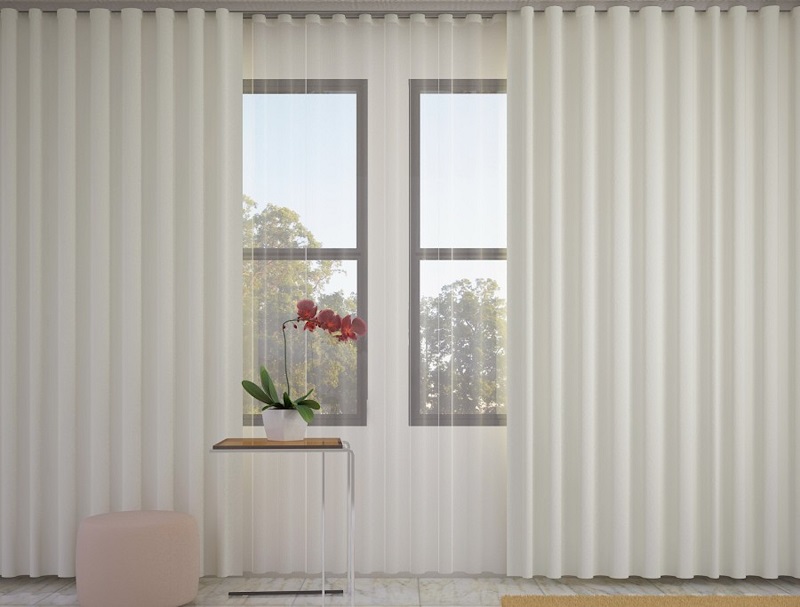 The s-fold is a curtain heading style that's commonly used in contemporary style homes. To create an s-fold heading, the fabric needs to be sewn flat on to a heading tape and then, the finished result is hanged onto specialised s-fold curtain tracks that you can purchase from a well-stocked window treatment store. S-fold curtain tracks create a soft and continuous wave as opposed to the more chunky and elaborate, pleated curtain headings. This unique heading style also allows the curtain to glide smoothly along the tracks while holding each fold perfectly in place. This way, even if you pull the curtain halfway to the sides to let some sunshine in, it will still retain its symmetrical folds.
Because of these features, the s-fold heading fits perfectly in interior styles that strive towards perfection, simplicity and symmetry, like for instance Scandinavian and contemporary. In addition, s-fold curtains look especially stunning when used with large ceiling-to-floor windows or glass doors. If you want to combine your curtains with roller blinds for increased functionality, the s-fold heading style is often considered the most practical option to make it work.
When shopping for s-fold curtain tracks, you can choose between centre-open, left or right-hand stack or free-floating opening options for ultimate flexibility. S-fold curtain tracks are also available both as wall and ceiling mounts. To calculate the right length of the track for an S-fold curtain, it's recommended to add 20-30% to the width of the window. This way, there will be enough room for the curtain to be stacked to the sides.
Pencil Pleat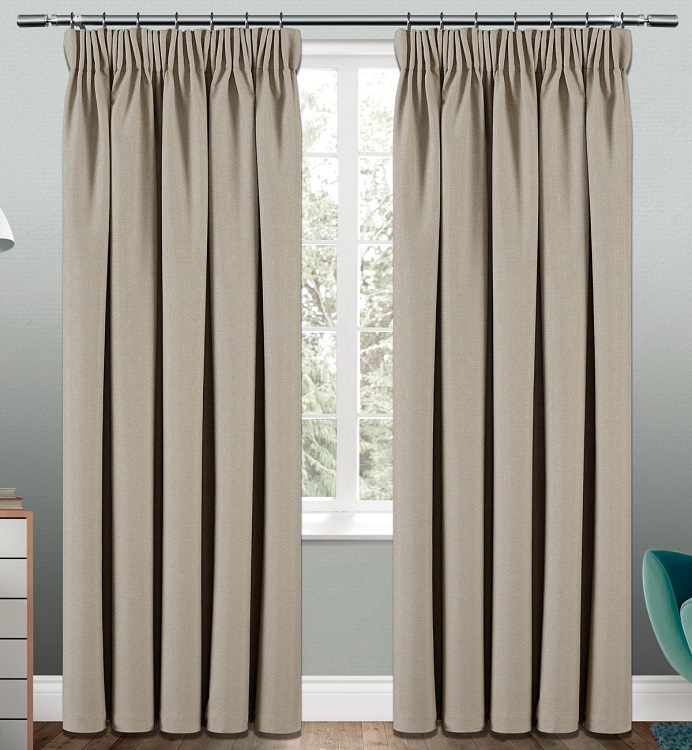 Then, there's also the option to choose a pencil pleat heading. This type of heading creates compact pleats that are as narrow as a pencil. This way, the curtain receives an unstructured and casual look which adds the perfect touch to eclectic living areas and cosy bedrooms. This type of heading style can work equally well with plain and printed designs as well as sheer and opaque fabrics. You can even purchase a ready-made pencil pleat curtain that you can directly hand on a pole or track without the need to sew it.
Pinch Pleat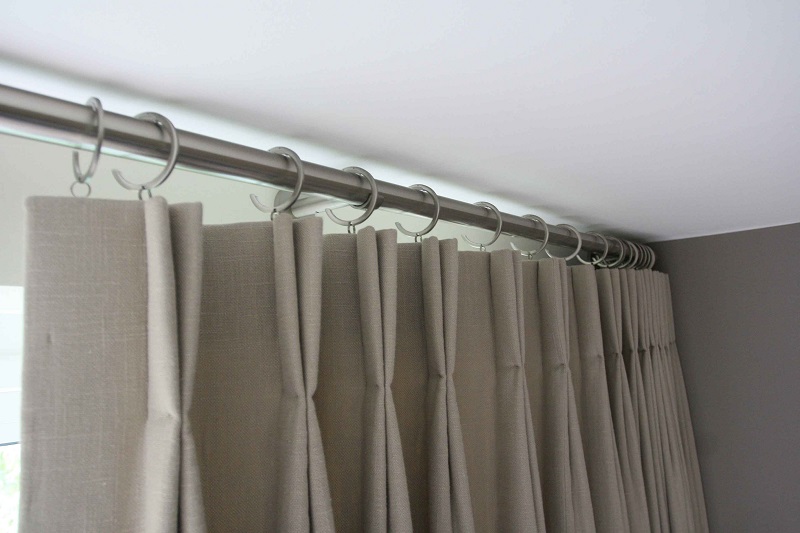 Pinch pleats add a dramatic touch to a curtain and look best in rooms that revolve around opulence and grandeur, like for instance large formal dining rooms. They are only used for heavy curtain fabrics that usually come fully lined. The pleats of the curtain are made by pinching and sewing the fabric at equal intervals. Then, the curtain is attached to a pole. You can choose between double pinch pleat and triple pinch pleat.
Eyelet
The eyelet curtain heading can only be achieved with poles. But first you need to purchase a curtain that has eyelets built into its top. These curtains can be very easy to hang as you only need to thread the pole through each of the eyelets. The final result is a curtain that has gentle wave-like folds. Usually, this type of heading is only used with solid curtains and doesn't work with sheer ones as the fabric can easily get damaged around the eyelets.
Tab Top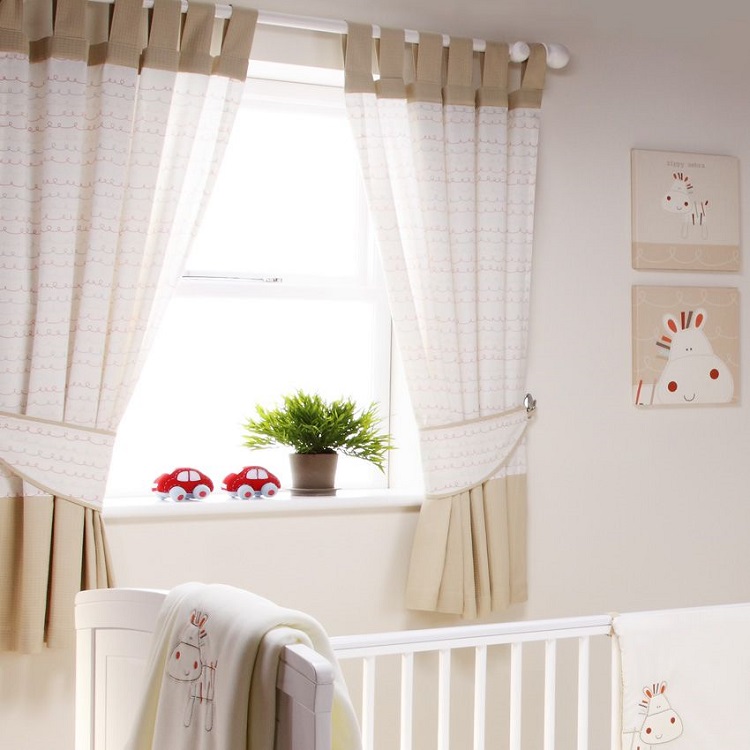 Another heading style that's easy to hang is tab top. Tab top curtains include fabric tabs attached to their tops. The tabs can be of equal or contrasting fabric. Similarly to eye curtains, you only need to thread a pole through the tabs without any need to use pins or hooks to hang them. The tab top heading can be applied to all kinds of curtains from sheer to solid and from lightweight to heavy.