Reasons Why You Need to Invest in Monitor Arms for Your Workplace
Spending a day at the office can be exhausting. Especially if your work station is not ergonomic and set up in a way to help you be more productive and efficient without putting your health at risk. Creating an ergonomic working environment for your employees is vital, however, this involves more than just purchasing ergonomic office chairs. Investing in a computer monitor arm is a great start.
In many cases, people who work on a computer have their monitor at the wrong height and angle, so they put additional strain on their neck. When looking down for a prolonged period of time the neck's muscles work much harder to hold the head in place, which results in a stiff neck. With time, this will affect the muscles in the shoulders and eventually can develop tension in your arms.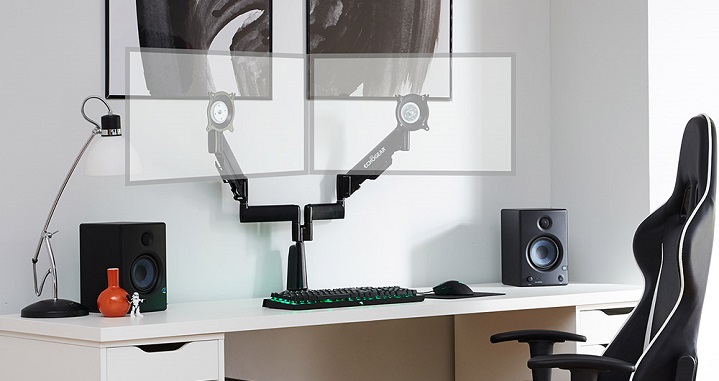 Improve Your Health
A computer monitor arm can help you position your monitor at the hight that suits you best, regardless of whether you're sitting or standing. In other words, it will help you to easier find your ideal position and comfortably work for hours on end. Without it, you'd have to hunch toward the screen, putting your body in a rather unnatural position while also straining your eyes. When using a computer monitor arm, however, you can adjust the position of your monitor in a way that doesn't put any strain on your neck, back, arms, and eyes.
Enhance Your Workspace and Work Experience
In instances when you need to switch from landscape to portrait mode, or to swivel the screen so that other colleagues can see it, a monitor arm will be of great help. Or, maybe you want to find the best position so that each member of your team can clearly see the screen when running a PowerPoint presentation or when discussing something you're working on. During some parts of the day, the afternoon sun may be reflecting on your screen, giving you a hard time looking at the monitor and focusing on your task. Different people have different ways of working. The ergonomic monitor arm is a great piece of ergonomic equipment to increase workspace flexibility.
It tides up the workspace
The ergonomic monitor arm will lift your computer off the desk creating more free desk space allowing you to use this surface more efficiently. Extra space is always handy and removing the monitor from the desk will create a clutter-free, nice and zen spot. A well-organized work environment can have a genuinely positive impact on helping you stay focused and unstressed while working.