Reasons to Upgrade Your Commercial Space with LED High Bay Lights
LED high bay lights are high quality lighting solution that has been through years of innovation to achieve the top position on the market. They're specially designed for tall ceilings and large areas, focusing the light more directly and giving powerful illumination at a long range. And that's just one of the reasons that make them the perfect choice for commercial and industrial spaces.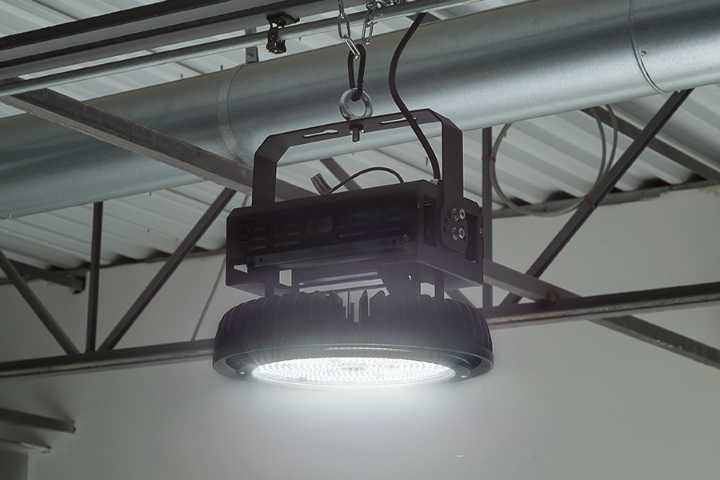 Benefits of LED High Bay Lights
LED high bays have many advantages over other lighting options that reduce the financial cost on your investment in LED lighting, and here are some of them and the ways they'll impact your business and working environment.
Reduce Power Bills & AC Cost – Since LED high bays emit almost all of their light in the desired direction, they're energy efficient and will save you thousands of dollars on energy bills. And it gets even better as their running temperatures are reduced and they have heat load on air-conditioning, which will save you money on AC bills, too.
Low Maintenance & Longevity – With the ability to work in extreme temperatures and low voltage ranges, high bay lights require low maintenance compared to high-intensity gas discharge or fluorescent lights. Apart from it, LED high bays are highly resistant to moisture, debris and other potential hazards. Their efficiency and high quality design ensure you get the longest lasting lights and brighten up any area in your commercial space.
Better Lighting – High bay lighting offers clear illumination and different sorts of reflectors and fixture positions will provide different lighting results, varying from direct spotlighting effects to a more diffused lighting over a wider area.
Increasing Productivity – Light source of cooler temperature decreases strain on the eyes and can boost productivity.
Use of LED High Bay Lights
Their position and high lumen output make them fit perfectly in various commercial and industrial areas. You can purchase LED high bays Australia wide for various uses, from garages and warehouses, recreational facilities, factories, and storage facilities to convention halls, event centers and any other spaces that need lighting from a height of 20 feet to approximately 45 feet. Here are some examples of how they're used in different industries.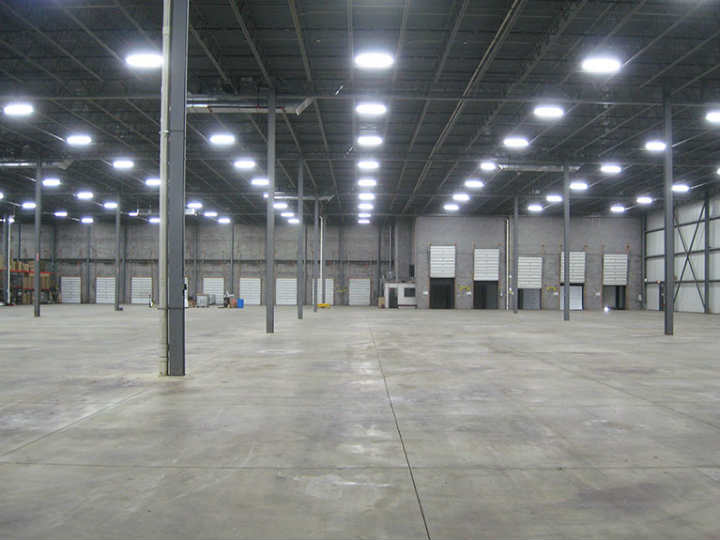 Industrial Lighting
Modern LED configurations are quite popular in all industrial environments as they offer the main key points needed, such as safety, quality and precision. Throughout the years, LED high bay lighting fixtures have developed these characteristics and today are the number one lighting choice of various industrial settings. Their functionality and adaptability for use with microwave activation sensors make them the most advantageous industrial lighting. They offer quick adjustment and users can easily create a different intensity of lighting in different areas of their workspace. As the 24-hour working nature of some of these facilities may require a higher initial investment in LED lights, it is offset by their lower running cost and longevity.
Commercial & Retail Lights
Typically, high bay LEDs are used in big grocery stores, retail stores, malls, casinos and other commercial applications. In most cases, they're mounted high above floors, delivering bright and uniform lighting to glossy, polished or reflective surfaces as modern LED high bay accessories minimize glare.
Warehouses Lighting
One of the most common setups of LED high bays Australia round is in warehouses, used to brighten up massive interiors. Very often warehouses are a real challenge when it comes to lighting solutions. Tall shelving and stacked items sometimes create areas where light can hardly penetrate, especially at shallow angles. Additionally, many warehouses operate 24/7, and LED high bay lights have met all the requirements of this type of workplace, ensuring highest levels of lumen and colour temperature as well.
Loading Bay Lighting
One of the most important links in the supply chain of warehouses, logistics or retail spaces, is certainly an efficient loading bay. And well-planned lighting system is very important for maintaining a smooth supply chain, in time and safe. Suitable LED lights will illuminate all goods, ensuring proper handling, traffic and transfer, and a safe environment for the workers.
Cold Storage Facilities Lighting
The diverse lighting requirements of cold storage facilities affect the lighting choice, and that's the main reason why high bay lights are the best choice for this kind of places. High quality light is crucial as it's not supposed to heat up the critical temperature of the plants and LED high bays lighting is the top choice when it comes to light setups in these facilities.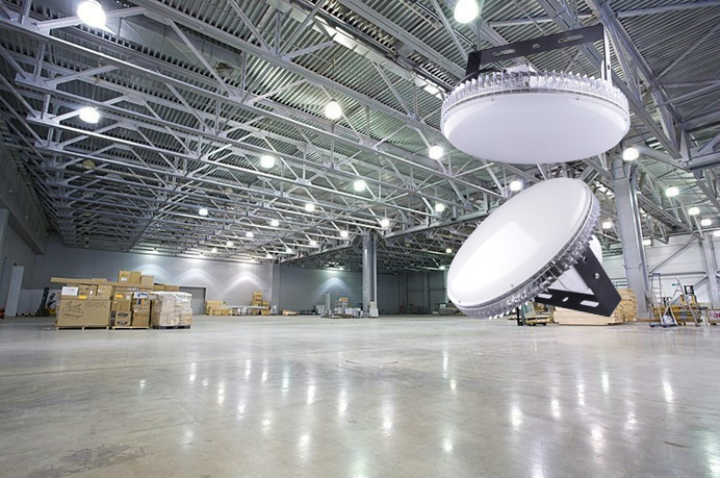 Choose LED High Bay Lights for Your Business
Before you opt for replacing your current light fixture with LED high bay, there are a few specifications you should compare. First, it's LED equivalent wattage, then lumen output, lifespan of the LED light, correlated colour temperature, colour rendering index and lumen per watt rating. Also, check if they're dimmable or non-dimmable and if they can be adjusted to the existing fixture.
The best way to see which LED high bay fixture is right for you (apart from equivalent wattage) is to match the lumen output of your current fixture to the high bay you're selecting. Also, check the correlated colour temperature. A smaller number of Kelvin indicates that the light is warmer, while a Kelvin number higher than 4000K means the light is cooler and suitable for any commercial or industrial setting.
Types of LED High Bays
Linear LED High Bay Lights – They look similar to the fluorescent tube high bays design, with a rectangular shape and make a great replacement for them. Due to the linear design, they're quite easy to install and suitable for aisles and other similar spaces.
Conventional LED High Bay Lights – These lights have a reflector in a cone shape. LED lights that already direct their illumination downwards don't need a diffuser. And if not designed correctly, the reflector dome may prevent the high bay LED of heat dissipation.
Round LED High Bay Lights – Also referred to as UFO LED high bays, they come in a round shape, a form that allows the LED to operate as cold as possible. This makes them the most common choice for commercial and working lighting solutions.