Reasons to Get a Home Infrared Sauna
Today's fast-paced lifestyle has turned felling stressed the new normal. Coming home from work with a headache or pain in the neck and back are some common signs that stress has invaded both your body and mind. When looking for ways to reduce stress levels and enhance health, more and more people turn to sauna therapy, which is known to provide a wide range of healing benefits.
Infrared saunas are a lot more effective than traditional saunas in providing pain relief and relaxation. A traditional sauna makes use of dry hot air to warm up the body. This means that in order to provide therapeutic effects it needs to reach high temperatures. Due to the hot temperature the sauna session often feels uncomfortable rather than enjoyable and relaxing.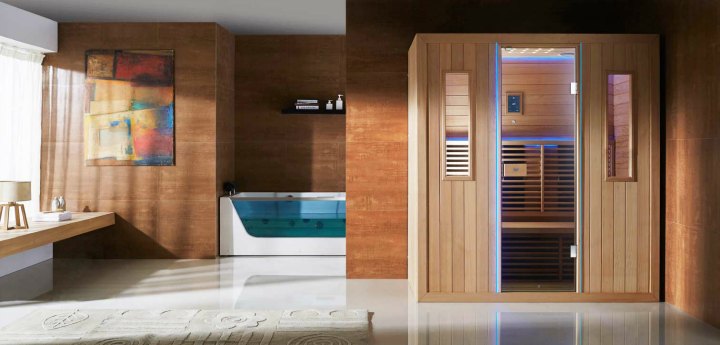 Providing more effective health benefits infrared sauna is safer to use and makes use of infrared light to penetrate deeply into the skin, thus making you sweat at a more comfortable and enjoyable temperature. Due to their compact and advanced design, infrared saunas are the preferred choice for spas, wellness centres, gyms and hotels. However, the main problem with public saunas is that they can often be a thriving environment for all sorts of bacteria. Many people visit them on a daily basis and even when cleaned thoroughly, some bacteria might still be lurking in that wet and hot environment. In addition to this, there are several other reasons why a home infrared sauna is a better choice than a public one.
Create Your Own Oasis for Relaxation
Having an infrared sauna means that you can easily create your private oasis for relaxing and unwinding after a long and busy day. While you have to share a public sauna with a lot of people your home sauna is all yours to enjoy in some relaxing 'me-time'. Light up a few candles, play some chillax music and rip the health benefits infrared sauna offers. A single sauna session of about 20 minutes can relax tensed muscles, enhance blood flow, provide back pain relief and make your skin look and feel smoother and glowing.
Enjoy a Blissful Sauna Session at Any Time
Most spa or wellness centers aren't open 24/7, so to have a sauna session you have to find some free time during the day or after work to visit your local spa. Add to this the time spend driving to the spa and preparing for the session and you're actually left with little time to actually enjoy the sauna. Your home sauna, on the other hand, is available to your at any time. Whether that be in the morning or after work at night, home infrared saunas give your the opportunity to enjoy the healing effects of heat therapy whenever you want to.
Wear Whatever you Want
When you have a sauna session at the spa, gym or any other public place for that matter, there are certain rules you need to follow about what can you wear and how much time you can spend in the sauna. At home, there are no rules that restrict your sauna experience. You can wear whatever you like or nothing at all if you're in such mood. Furthermore, the infrared sauna comes with advanced control features that allow you to adjust the temperature exactly to your liking.