Outfitting Your Jeep with Accessories for Any Off-Road Adventure
Jeep might not have the same footing or sales figures Down Under as Japanese or European 4WDs, but the brand (later bought out by Chrysler), is what started the whole off-roading segment, with the Willys Jeep dating back to World War II. Imitation and inspiration of the design soon followed across the globe and the birth of now-legendary 4WD brands. Today, Jeep still keeps to its roots with the Gladiator and Wrangler some of the best vehicles to take off-road, and the Cherokee and bigger Grand Cherokee are also extremely capable both on and off the tarmac.
Aussie buyers have been lured by the brand's off-roading heritage and prowess, as well as prices that undercut rivals by a fair margin. Here you have a healthy dose of American muscle, packaged in a go-anywhere suit. Buyers have a range of vehicles to choose from, depending on where and how they drive, and a host of accessories that makes the whole experience just that much more enjoyable. If you're off-roading often, or overlanding for that matter, you'll want and need to equip your car with the necessary Jeep accessories to earn the bragging rights over your mates who chose to stay at home. The 2019 BFGoodrich East-West Jeep expedition, paying homage to the first such feat 50 years back that crossed the entire length of the Aussie heartland, is one off-roading story worth telling.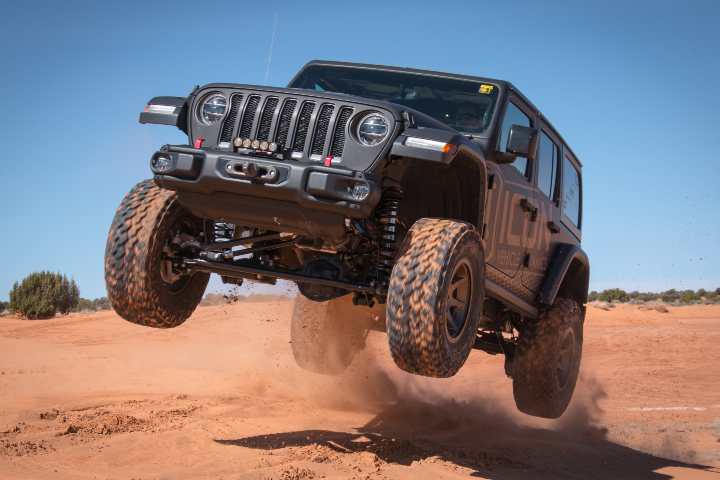 Off-roading Protection and Gear
Wranglers and Gladiators have decent stock front sports bars that fit a winch, and underneath you'll see a well-appointed bash plate. The road-oriented Cherokee and its bigger brother have room for an aftermarket nudge bar or bull bar and enough space for accessories light extra lights. Still, at the front, a bonnet protector protects all cars from spraying rocks and dirt and goes well with the black Jeep grille. Along the chassis, you can install rock sliders on either side when in the technical stuff and avoid any underbody damage. Since you'll be kicking up dirt, weather shields installed along the roofline let you make the most of open windows in the searing heat. They're tinted too so also make decent shade.
I mentioned winches, and attempting any feat remotely resembling the one above is impossible without an installed winch capable of pulling you out when your car won't budge. You'll also want recovery straps and shackles that fit to-rated tow points on your Jeep, two at the front and two at the rear. Or you can use a recovery hitch at the back. For dunes, sand and loose soil look to hi-lift jacks with included base plates and a pair of recovery tracks. And a basic shovel to clear dirt around the wheels before attempting to recover your car.
Off-roading Suspension and Performance
Setting your Jeep higher is common sense when leaving paved roads and heading into the bush. Change out your road tyres for larger off-roading tyres with thicker and deeper tread to dig into the road and give you the traction you need. They're also less susceptible to punctures, but always have a spare. To lift the car even higher, get a body lift kit with spacers, or a full-out suspension upgrade that includes longer travel springs and stiffer shock absorbers. To smooth out the steering when these are added, a steering damper gives you a better feel behind the steering wheel.
If you want more speed, or adjustable throttle to handle different surfaces, a throttle controller helps you apply just the right amount of throttle at the right time. You won't run the risk of wheel spin digging your car deeper into the sand. This Jeep accessory can also save you some fuel, good if you're going for longer trips with no servos for miles. A good idea here is to fit a long-range fuel tank.
Performance Jeep accessories also include modified air intakes. Snorkels get more clean air in and at a height, or you can get a bonnet scoop to filter and clean cooler air before it makes its way to the engine. Change out the air and oil filters before any trip, and stock up on engine and transmission oil. To avoid oil contamination, purchase an oil catch can. In addition, if you want fewer issues with heat or water buildup in the transmission and transfer case, a differential breather bleeds excess pressure.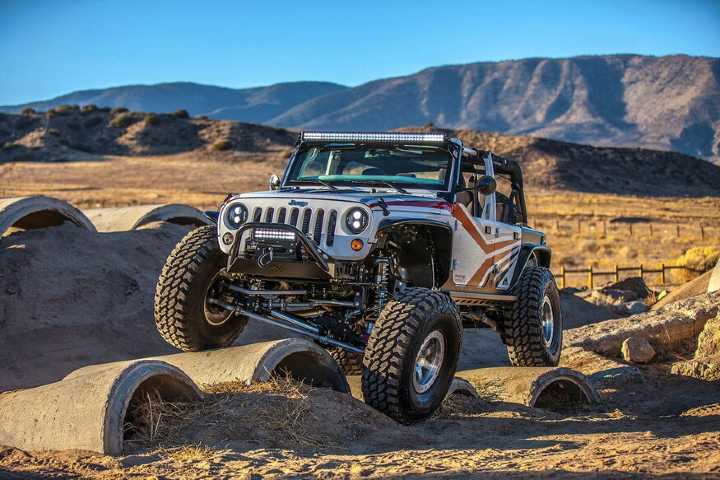 Functionality
Both off-roading Wranglers and Gladiators, and the road-oriented Cherokee family can welcome a range of accessories that improve overall functionality. Light up your path with LED headlights and additional fog lights. These consume less power and are a good option for older vehicles with standard bulbs. To improve visibility, use a LED strip at the front and back. If you're towing with the Cherokees, put in a rated tow bar and get a set of towing mirrors when hauling longer loads, like bigger boats or caravans. Since these are taller vehicles side steps and electronic stepping ladders help you get in and out of your Jeep easier.
Miscellaneous
Inside you can add cheap but effective creature comforts like seat covers and floor mats and keep things clean. There are also simple storage solutions like cargo nets, under-seat drawers and boot boxes to have oversight to all your gear. If you're going camping for a few days, then basic cooking and sleeping gear and an awning are all essential. You'll also need some tools, heaps of water, some spare parts and a first aid kit.
Though Jeep Australia offers many of the items listed, prices for genuine parts and Jeep accessories can come at a price. If you're sensible with your money like most buyers, there are decent and even better-made aftermarket products that let you fully equip your Jeep for your next off-roading adventure at a fraction of the cost.